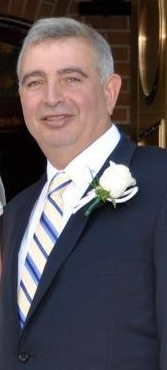 In Memory of
Eugene Steven Tesoriero
1960 - 2020
Obituary of Eugene Steven Tesoriero
Eugene "Steven" Tesoriero was born on June 22, 1960, in Liverpool, England. He passed away peacefully, May 7, 2020, from complications of COVID-19; his wife Lori was by his side.
Steven or "Tes" as he was called by his friends, was raised in Great Neck, NY. He attended St. Aloysius Catholic Elementary School and was an altar boy. He transferred to Great Neck Public Schools for his Middle School and High School Years. His Love of the outdoors and contact sports led him to play Ice Hockey at age 10, for the Great Neck Bruins. He also played soccer for Great Neck North High School. He bought his first boat when he was sixteen and named it "SinBin," an old ice hockey nickname for the Penalty Box. He enjoyed fishing on the Long Island Sound and spent many days and summers with his friends at Steppingstone Park where it was moored in Kings Point. He graduated from Great Neck North High School in 1978 and then attended SUNY Geneseo and Nassau Community College.
He enjoyed being outdoors and for 15 years worked as a Welder for Buchanan Marine in Port Washington; repairing the steel barges that transport sand and gravel used in constructing the NYC skyline. Prior to joining Buchanan, he worked at the Brooklyn Navy Shipyards.
Steven was a Big "True Blue" Sports fan. The NY Giants, NY Rangers and Everton FC were his favorite teams to watch. He continued playing ice hockey into his late forties—always on teams with his childhood friends. Every ice hockey game and all his teammates mattered to him. One of his greatest pleasures was being a teammate. Whether in the locker room, on the bench or playing on the ice, he loved every part of a hockey game—those were some of the best times of his life.
In addition to traveling, boating, diving and fishing, he also enjoyed riding his Honda Goldwing. When traveling the place he loved the most was Liverpool, England to visit his family and friends. He was also a long-time member of the Steppingstone Yacht Club and The Manhasset Bay Sportsman's Club in Port Washington.
He was a sweet man beneath his gruff exterior. Steven had a huge heart and was always a person you could count on for a friendly conversation, a round of drinks at the bar to celebrate or console, words of comfort during a difficult time, funds if they were needed, or a gift for no reason - he was always there for family and friends, a gentle man with a giving soul. The Everton FC Motto, Nil Satis Nisi Optimum which means "Nothing but the Best is Good Enough" is the way Steven led his life and is the legacy he leaves behind.
He is Preceded in death by his mother and father, Ann and Eugene A. Tesoriero.
Steven is survived by his wife, Lori; stepchildren Kimberly Barresi (Mike) and Michael Klein; brothers Mark (Suzanne) and Ricky (Karen), and adored nieces and nephew. His aunts and cousins will miss him dearly.
Most Importantly, he will be missed by his buddy and bodyguard Robert Bailey.
We got you - All the Way!
A Private Funeral will be held at Dodge Thomas Funeral Home, Thursday, May 14, 2020
Interment to Follow at Brookville Cemetery
A Memorial Mass and Celebration of Life with Family and Friends will be planned for a later date.
Donations may be made to the Go Fund Me, for a Scholarship Fund to be set up in Steven's Memory.
Link to Scholarship Fund:
https://www.gofundme.com/f/loveneverforgets-tes-18member=4405042&utm_medium=email&utm_source=customer&utm_campaign=p_email%2Binvitesupporters
Share Your Memory of
Eugene
Have A Question?

There are some invalid fields.
Please wait...