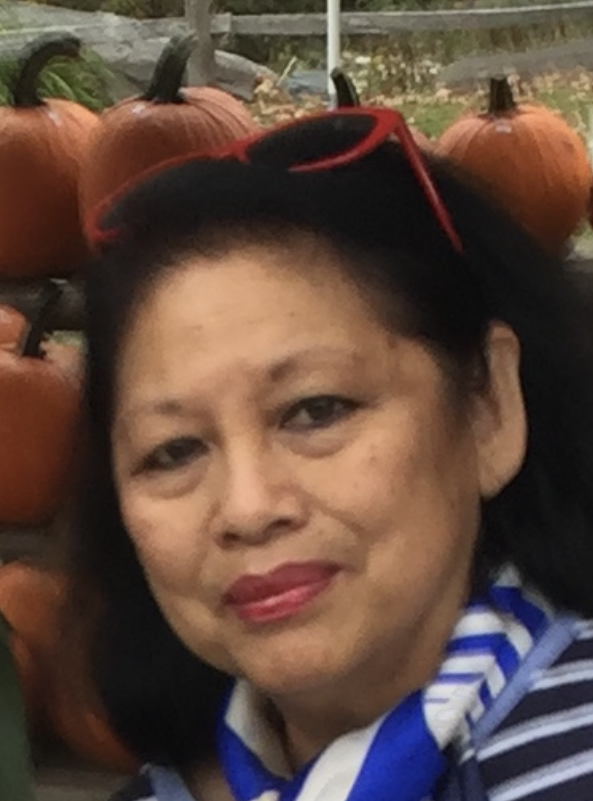 Obituary of Jennifer Faustino Way
Please share a memory of Jennifer to include in a keepsake book for family and friends.
On November 8, Jennifer Way's life was claimed by a disease that she first encountered 30 years prior. But to conclude that she lost her battle would be a colossal misstatement. Indeed, through many ups and downs, she achieved victory by maintaining her quality of life both professionally and personally.
Jennifer (nee Faustino) was born in Manila, the Philippines, in 1950. She attended high school in Manila and achieved her Bachelor's degree in Accounting from St. Theresa's College in Quezon City. After working as a secretary for a year, Jennifer came to New York to visit her sister and decided to call it home. Not long after discovering the place she was destined to live, she found the profession she was destined to excel at – travel manager for Malaysian Airlines, a job she enjoyed for 35 years. Her specialty was hosting trips to Manila for travel agents to encourage them to sell such excursions to their clientele. These sojourns also gave her an opportunity to schmooze with airline personnel and often have her seat upgraded. She was even granted access to the cockpit a number of times. Malaysian closed their New York office in 2010 and, not yet ready to retire, Jennifer transitioned to governmental employment working as a clerk for the Nassau County Health Department before retiring in 2020.
Two years after arriving in the U.S., Jennifer met Keith Way. Keith was struck by her beauty and to say theirs was a match made in heaven is an understatement. Two years later, they married, found their way to Glen Cove and have lived there ever since. But that doesn't mean they never left town. On the contrary! "I was working at the Park Lane Hotel and Jennifer visited me one day," Keith recalls. "Next thing you know, she's chatting with the chef who invited her to lunch with he and the hotel's Vice President and General Manager. That's how she was, she had an infectious personality and people were drawn to her. Anyway, more meetings followed and talk of food during those get-togethers led to her becoming a full-fledged foodie." After that, whenever she and Keith traveled, meals were the focal point and he has great memories of the famous restaurants they visited and renowned chefs they met. "She'd contact them in advance and they'd roll out the red carpet," he recalls.
Jennifer was predeceased by her mother Valentina Lunchino and her father Benjamin. She is survived by brothers Bert and Rene, sister Rowenna Corona, stepson Charles Wayand many loving nieces and nephews. And, of course, Keith. "My existence was altered so favorably by her presence," he explains. "She was the motivating force in my professional life and I would have never experienced all of those wonderful travels and cuisines had it not been for her. So, while an insidious disease took her from me, it can't take the influence she had or the memories of the good times we shared. And for that, I am forever grateful."
Share Your Memory of
Jennifer