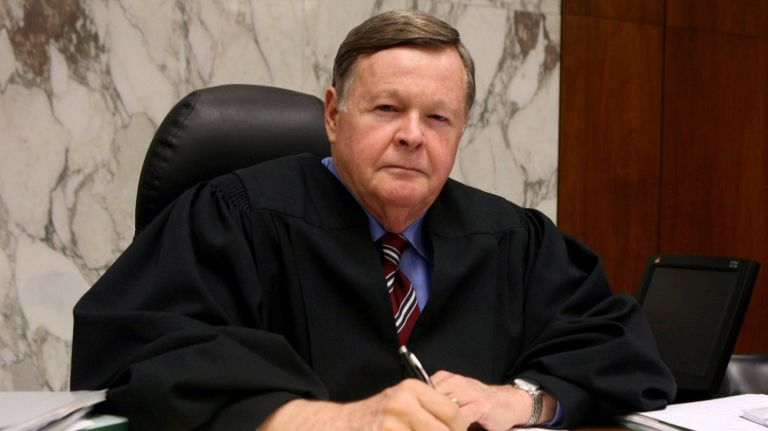 Obituary of Hon. F. Dana Winslow
The Honorable F. Dana Winslow of Glen Head, NY passed away shortly after midnight on May 15, 2021 surrounded by his family. He was 82 years old. The oldest of five children of Francis Dana Winslow Sr. and Flora Brady Garvan, he was a retired New York State Supreme Court Justice and practicing attorney. Born in New York, NY on February 20, 1939, Dana spent his early years in Connecticut, metropolitan NY and upstate New York in Warwick. Dana served in the Army as Special Agent Military Intelligence and Instructor from 1962-1965. He was stationed as an instructor in Maryland, Washington D.C. and Korea. It was in Korea that Dana was introduced to martial arts which began a lifelong avocation. He obtained a second degree blackbelt in Judo and a brown belt in Karate. His love of martial arts and legal acumen eventually led to his becoming Legal Counsel and Adviser to the 1993 Tae Kwon Do World Cup Championship, as well as a member of the International Olympic Committee and the United States Tae Kwon Do Union. Following his service in the Army he attended American University in Washington D.C., where he was named to the Dean's List and received his B.A. in 1966. He was then named Outstanding Graduate when he received his J.D. in 1969 from Catholic University in Washington D.C.
Dana had an extraordinary legal career that spanned over 50 years. His achievements ranged over virtually every aspect of legal practice. He began his career in securities law at Beekman & Bogue. He practiced criminal law for several years, most notably on the legal team representing Anthony (Tony) Ulasewicz, who was the 'Bagman' for Nixon in the Watergate break-in. Dana was also involved for many years in entertainment and sports law. He represented Jean Cruget, the jockey who rode Seattle Slew to Triple Crown victory and the French artist Pierre (Peb) Bellocq. Dana was also involved in the music industry, creating his own record label, producing an album and representing the singer Tommy Thorrell who performed for Nancy Reagan in her 'Just Say No' campaign. He also had extensive involvement in municipal law, serving in various legal capacities for Old Westbury, Roslyn Harbor, Center Island, Lake Pleasant and Hamilton County. The pinnacle of his legal career however, was his election to the New York State Supreme Court in 1997. He relished his time on the bench where he was able to bring to bear all of his experience, talent and out-of-the-box thinking to adjudicate the matters before him. He always tried to achieve the best outcome for all parties involved. He fervently believed in the law and its role in making society better. He retired in 2015 and returned to private practice.
Dana had an enduring lifelong passion for horseback riding. He was an accomplished equestrian, competing all over the northeast in Combined Training events. This passion and his compassion and empathy for people came together in 1974 when he formed Winslow Therapeutic Riding, an organization that provides equine-assisted activities and therapies. He served in various capacities in the organization from its founding to the time of his passing. Dana is survived by his wife, Beverly Bell, his brother, Peter Winslow, his three children, Francis D. Winslow III, Michael Winslow, Jennifer Winslow-Bahrenburg, his daughter-in-law Suzanne Kim-Winslow and his three grandsons Ryan Bahrenburg, Samuel Winslow and Theodore Winslow.
Arrangements entrusted to Dodge-Thomas Funeral Home of Glen Cove. In lieu of flowers, memorial donations can be made in Dana's name to Winslow Therapeutic Riding Center https://www.winslow.org, 1433 Route 17A Warwick, NY 10990.
Share Your Memory of
Hon. F.