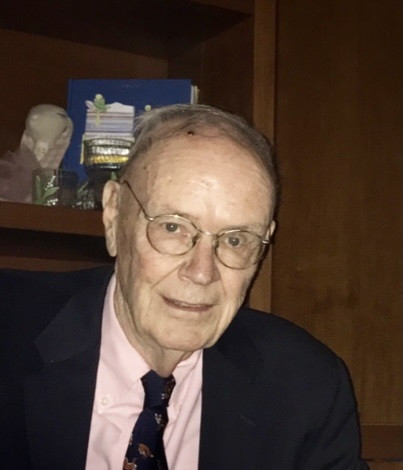 Obituary of Bruce Edward Balding
Please share a memory of Bruce to include in a keepsake book for family and friends.
Bruce E Balding, an investment advisor, and long resident of Long Island New York died on April 5, 2021. His daughter Betsey, was with him through an illness and then fall.
Born in Chicago Illinois in 1931, Mr. Balding was the child of Dorothy and Barney Balding who was a polo player and horseman. His grandfather, Joseph E Davis, a founder and President of the Piping Rock Club, was a great grandson of William Davis, one of the founders of Davis Elkins College. Home was on Wheatley Road in Old Brookville, on a family estate where his grandfather had run racing stables and then his father, Barney, managed them as boarding stables, from the 1920s to the 1970s. Bruce attended Greenvale School and went on to Aiken Prep, in Aiken South Carolina. As a young boy there he discovered a love of writing. He wrote "I seemed to know instinctively that writing gave me a happy heart." He wrote a book about his family several years ago, and many short stories and articles, throughout his life.
Bruce graduated from St. Marks School in Southborough Mass. and then went on to Harvard University receiving his B.A., where he was a member of the DU club. He then received his Graduate Business degree from Harvard. He always spoke fondly of his time in Cambridge Massachusetts, studying under McGeorge Bundy. There he met his first wife Barbara Whitney at Radcliffe College, and they married in 1954. He left for South Korea where he became a lieutenant in the army, returning in late 1956, after the birth of his only child, Betsey. Throughout his life he studied history and loved to read and discuss politics. He loved playing golf with his friends at Piping Rock Club, where he was a lifelong member. He also was a member of the Links Club in New York City and Harvard Club in New York City and Boston, where he enjoyed dinners and lectures with friends and family. He was a director of Davis Elkins College from 1980 to 1990 and was President of the National Institute of Social Sciences in 1994. Bruce found his passion in financial advisory and management, which he practiced for almost 70 years. He worked for Wellington and Co. and then became President of Hamilton Gregg Capital, and prior to joining Tocqueville Asset Management in 2005, he started an independent firm called Balding and Co., which he sold to Carret and Co. He leaves many friends that he made throughout his life from working with private clients and foundations.
His family and friends especially remember his sense of humor, and his curiosity and intelligence. He was very proud of his grandchildren, Mollie Ruprecht Acquavella, of NYC and Charlie Ruprecht of Cambridge Mass and Barney Ruprecht of NYC. He loved to hear "the news" as he would say, and ask about their lives and cherished time visiting with them. He was especially proud that he had three great grandchildren. Betsey will miss him and loved him dearly.
He is survived by his brother Robert Mathews Balding of Pawley's Island, South Carolina.
Donations can be made to the St. Marks school, Southborough Massachusetts and the Caumsett State Historic Park Preserve.
Share Your Memory of
Bruce