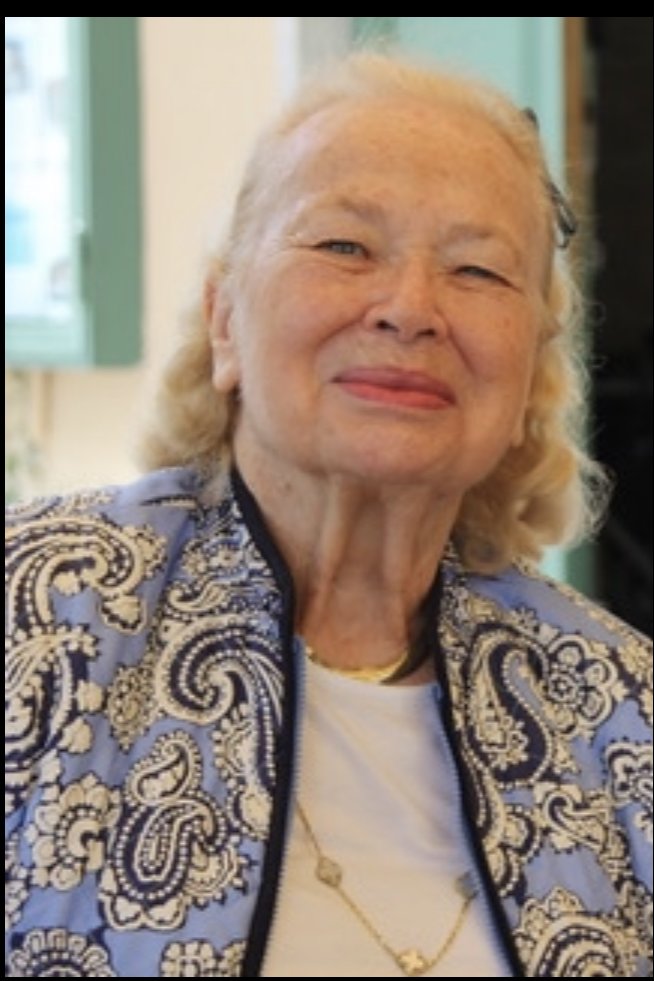 In Memory of
Marianne Cattier
1927 - 2021
Obituary of Marianne Cattier
Marianne Vowels Cattier passed away peacefully at her home on Monday, January 11, 2021 in the company of her sons.
Born on November 16th, 1927 in Frankfort, KY to Walter Richard and Anna Mae Vowels, Marianne was raised in Louisville, KY where her Irish-German ancestors settled in the 19th century. Her father was a liquor salesman for the Brown-Forman company and her mother was one of the first female executives at Schenley Distilleries in the rapidly expanding Kentucky Bourbon trade of the 1920s.
Marianne attended the Sacred Heart School, and then graduated Summa Cum Laude from the University of Cincinnati. In her early career, Marianne worked at the US Embassy in Paris, and the US Consulate in Bern before moving to New York City in the mid-1950s where she worked for the Ford Foundation and where she met and married her husband, Jean Cattier.
Her marriage to Jean brought her to the North Shore of Long Island and his home in Locust Valley, NY. Inspired by the enchanted gardens that were an intrinsic part of their home, Marianne developed her abiding love of all things horticultural and historic. From the North Country Garden Club, to Planting Fields and Old Westbury Gardens, Marianne was an active supporter of preserving the natural beauty of the North Shore. Marianne was also an enthusiastic participant in local educational institutions, including the Portledge School of Locust Valley, NY where she served on the Board of Trustees for over 20 years, and of the Hutton House continuing education program at Long Island University's CW Post campus.
Marianne was an intrepid traveler and perhaps no place was dearer to her heart than France, where she kindled her love initially working for the US State Department. Her lifelong favorites included Provence, Brittany, Normandy and of course the country's capital of Paris. Maybe the only thing that could have rivaled France in her affection was the family's summer home in the Northeast Kingdom region of Vermont. Despite her honeymoon experience of arriving in the midst of a sub-zero blizzard, she grew to love the spectacular beauty and peaceful retreat of the family's lakeside camp.
Amongst the many things she passed on to her family was the commitment to her friendships. None were greater than the family's beloved caregiver, Adeline Gretener, of Locust Valley and Zug, Switzerland, who raised all of the Cattier children and who remained a loyal member of the family until her passing in 2019. Marianne invested in keeping those she loved close to her heart. From her impeccably written notes, to her weekly trips to New York City to have luncheons with dear friends and to share in the theater, to joining a local bridge group later in life, nurturing long-term friendships was always a priority in Marianne's life.
Marianne will be missed by many, yet the memory of her generous and loyal spirit will continue to inspire.
Marianne is predeceased by her husband Jean Cattier, Adeline Gretener, her stepdaughter Marie-Louise Cattier, and her daughter-in-law Carole Meyers. She is survived by her sons Alan R. Cattier of Quechee, VT, Henri R. Cattier (Lisa) of Lexington, MA and Jacques Cattier (Jennifer) of New York, NY, and her stepchildren Suzanne Taliaferro of Brays Island, SC and John Cattier (Dawn) of Marshfield, NC. She was also a beloved grandmother to, Catherine Franks (WJ) of Barre, VT, John Andrew (Krista) of Muskegon, MI, Trevor, Pierce and Avery Cattier of Lexington, MA and Adele and Julien Cattier of New York, NY.
In lieu of flowers, the family would appreciate donations to Old Westbury Gardens, the North Shore Land Alliance, or the North Country Garden Club where she served as the Club's Secretary for many years.
Share Your Memory of
Marianne
Have A Question?

There are some invalid fields.
Please wait...