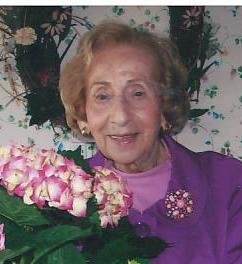 Obituary of Madeleine LaSalle Maccarone
Madeleine Rheta LaSalle Maccarone, longtime resident of Glen Cove, NY, died peacefully on Wednesday, April 10, 2019 at her home.
Born in Brooklyn, NY to the late Vincent and Jane LaSalle, she was the youngest of 11 wonderful children. All of her siblings predeceased her.
As a girl, Madeleine studied the piano and began her lifelong love of music and the performing arts. She was a frequent theater goer while working at the Metropolitan Life Insurance Company headquarters in New York City.
During World War II she met the love of her life, Pat James Maccarone, who proudly served in the United States Navy for four years. They married on January 18, 1947 and the "city girl" moved to the suburbs to start a new life. When her first daughter, Patricia Jane (Rinschler) was to be born, Madeleine put her work career on hold to assume the career that would come to define her life, that of Mother. Not long after, her second daughter, Madeleine Bernadette was born on her third wedding anniversary.
During this time Madeleine was an active member of the Mother's Club at St. Patrick School in Glen Cove, the Knights of Columbus Columbiettes, and St. Christopher's Home for children.
Madeleine reentered the workforce when her daughters went to high school. She began a vibrant career at the Glen Cove Hospital now part of Northwell Health. She was a natural fit for her work in Community Relations with her outgoing personality, attention to detail, and empathy for others. She was loved by her colleagues in the office and the nurses and doctors at the hospital. Madeleine and her husband travelled extensively during this time throughout the United States and in Europe. She was always eager to expand her horizons and make new friends. They became longtime members of Brookville Country Club.
After her retirement, Madeleine became a dedicated volunteer at the Planting Fields Arboretum in Oyster Bay, NY. She loved interacting with the visitors using her special talents for organization and for making people feel welcome.
Madeleine was tireless especially when it came to devotion to her family and friends. She was a graceful ballroom dancer. She loved to attend the opera, ballet and theater. She was a terrific cook and baker and looked forward to any occasion to bring people together at her table. One of her special talents was crocheting. She made beautiful blankets for family and friends and all new babies were welcomed into the world with one. Her compassion for those less fortunate and for children soon combined in her becoming a volunteer for Project Linus, whose mission it is to provide love, warmth and comfort to children who are seriously ill.
In her final years she was lovingly cared for by so many wonderful doctors, nurses, and hospice caregivers. She and her daughters were especially blessed to be joined by two dedicated women who made it possible for Madeleine to live with dignity in the home that she loved. God's blessings always on Eunice Benjamin and Sandra Waring.
Madeleine's family and friends loved and admired her for her warmth and caring ways. She was the best listener and an inveterate note writer. She was known for her quick wit, storytelling and love of laughter. Madeleine was a parishioner of St. Patrick Church for 72 years - a woman of deep faith who loved the Lord. She did not preach her religion. She lived it.
Madeleine is the beloved wife of the late Pat James, devoted mother to Patricia (Bruce) Rinschler, and Madeleine d'Ambrosio, loved as a second mother to Dr. Andrew D'Ambrosio and William Kuhn, grandmother of Bradley Rinschler and great grandmother of Kennedy Rinschler.Madeleine is also survived by many loving nieces and nephews and their families.
Visitation at Dodge-Thomas Funeral Home, 26 Franklin Avenue, Glen Cove, NY on Friday, April 26, 2019 from 3-7 p.m. Mass of Christian Burial at St. Patrick Church, 235 Glen Street, Glen Cove, NY on Saturday April 27, 2019 at 11:45 a.m. Interment Locust Valley Cemetery
A tribute fund has been created in Madeleine's memory. In lieu of flowers, donations may be sent to:
Ave Maria University
5050 Ave Maria Boulevard
Ave Maria, FL 34142
Please state "In Memory of Madeleine LaSalle Maccarone"