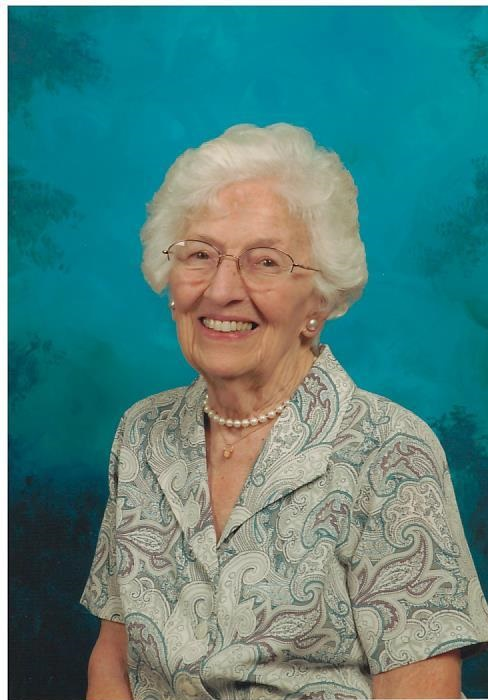 Obituary of Helen Newill Sanderson
Helen Newill McConaghy Sanderson passed away at her apartment in Glen Cove, NY in the early morning hours of Sunday, February 9, 2020. She was two and half months short of her 101st birthday. Helen was born on April 23, 1919 to Sarah and Frederic Newill. She was a 1937 graduate of Chester High School. She and Edward J. McConaghy, III (1916-1966) of Camden, NJ married in 1942. After living briefly in Collingswood, NJ they moved to the Delaware County, PA area and raised three children. Helen worked as a switch board operator for Sun Oil Co. in Marcus Hook, PA for over 20 years and retired in 1978. She married Captain Joseph Y. Sanderson (1919-2013) in 1976 and they settled in Crumpton, MD on the Eastern Shore of the Chesapeake. She was a founding member of the Presbyterian Church of Chestertown, MD and continued her lifelong joy of singing in the church choir. She is survived by her son James E. McConaghy of Nicholson, PA, her daughter Elizabeth Ann McConaghy-Roel, her son-in-law Ronald Roel, grandsons James E. Roel and Thomas R. Roel all of Glen Cove, NY as well as numerous generations of nieces and nephews. Her sons Edward James McConaghy IV and Gary N. McConaghy predeceased her in 1946 and 2015 respectively.
The family will receive visitors at the Dodge-Thomas Funeral Home in Glen Cove, NY (dodgethomas.com) Thursday evening, February 13th from 6:30pm to 8:30pm. A funeral service will be held at Bateman Funeral Home in Brookhaven, PA (batemanfuneralhome.com) on Saturday, February 15th beginning at 10:00am followed by burial at Chester Rural Cemetery in Chester, PA.
Donations in lieu of flowers may be made in remembrance of Helen to the First Presbyterian Church of Glen Cove, 7 North Lane, Glen Cove, NY 11542