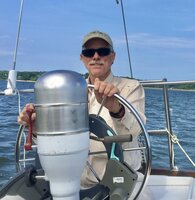 Roger F. Herr
Roger Herr of Glen Cove died this past Valentine's Day 2023. Loving husband of Nubia, father of Giselle and Rachel Malenchek, and brother of Evy and her husband Judd Anderson of Baltimore, MD, Roger sailed Amy II in the waters of Oyster Bay and beyond until recently and did accompany her on her water voyage to her new owner around the bend.
The son of parents who met in the Navy, Roger was born March 9, 1948 and grew up in Winnetka, IL, where he sailed the family's Sunfish on Lake Michigan. A graduate of New Trier East, Colgate, and Columbia Business School, he had a long and successful career on Wall Street, much of it in partnership with Tom McGrail, a lifelong resident of Locust Valley, now of Bozeman, MT.
A man of wide ranging interests, he was a member of the University Club, a dedicated member of St. John's of Lattingtown, Bible studies here and in Vero Beach, FL, and was an ardent member and supporter of Oakcliff Sailing Center and Seawanhaka Corinthian Yacht Club. He generously supported The Mayan Health Initiative and other philanthropies. He loved biking with his buddies here on the Island, was an excellent photographer and fly fisherman, and loved his nieces Christina and Clare and their young families, who live out West.
A memorial service at St. John's of Lattingtown, Locust Valley, NY, will be held June 17, 2023 from 1-4 pm. Memorial donations may be made to als-ny.org. www.DodgeThomas.com.