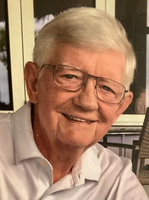 Rev. Dr. Randall Bayles Bosch
Rev. Dr. Randall Bayles Bosch, born May 4, 1931, passed away on Tuesday, January 17th, in Bayville, N.Y., at the age of 91.
Cherishing almost 40 years of marriage, his wife, Caroline Jaeger Bosch, survives. Also surviving is his sister Marthena, his four children, Philip (Mary) Bosch, Katie (Mark) Baeverstad, Paul (Pamela) Bosch, and Stephen Bosch, six grandchildren, one great-grandson, and sisters-in-law Sue, Marge, and Kathy.
Randall was preceded in death by his first wife, Carol Jacobs Bosch, his siblings Mary, David, and Ted, and his grandson Paul Baeverstad.
Randall grew up in Holland, Michigan and graduated from Hope College, New Brunswick Seminary, and Princeton Theological Seminary (Doctor of Divinity). He served as a minister for the Reformed Church in America at churches in New Jersey, Chicago, Kingston, N.Y., and most recently Locust Valley, N.Y. He mentored young seminary students and new ministers over the years and his guidance has enriched generations of pastors. While living on Long Island, he served as Chaplain for the Locust Valley Fire Department as well as for the Seawanhaka Yacht Club. He was active in Rotary International for many years.
Randall leaves this world with a legacy of kindness, compassion, and a great respect for fairness and justness. His sense of humor both in the pulpit and at the dinner table is legendary. He and Caroline spent many happy days traveling, playing golf, enjoying their home in Florida, and spending quiet moments watching the Long Island Sound from their kitchen window.
He will be greatly missed by friends and family. Please join us for a visitation on Friday, February 3rd, at Dodge Thomas Funeral Home in Glen Cove, N.Y., from 1 PM to 3 PM and 6 PM to 8 PM.
A Funeral Service will be held at the Reformed Church of Locust Valley on Saturday, February 4th at 10AM, followed by the inurnment at Locust Valley Cemetery.
In lieu of flowers, donations may be made to Church World Service and Doctors Without Borders.