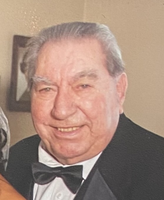 Lorenzo Todisco
Lorenzo Todisco, of Glen Cove, NY, beloved husband, father and grandfather, entered into eternal rest on May 30, 2022, surrounded by his loving family.
He was born in Sturno, Provincia di Avellino, Italy, the son of Giuseppe Todisco and Erminia (Pompeo) Todisco. He was a general contractor, successful businessman and entrepreneur. He loved to play soccer as a younger man, and watched every televised soccer game until he passed away. Later in life he enjoyed playing on bowling leagues and playing cards at weekly card games with his longtime friends. He taught himself how to play the guitar, and even though he never had singing lessons, he had the voice of a professional vocalist, which he used to sing at every opportunity, including as a member of the St. Rocco parish choir where he was often a soloist. He was generous with his time and gave back to his community as an active member of the Sons of Italy, Knights of Columbus, Kiwanis Club, and the Holy Name Society.
He married Josephine Capobianco in 1958, and together they raised five daughters. His greatest joy was being with his five granddaughters.
In addition to his loving wife, Josephine, he is survived by his devoted daughters, Amy Braunstein, of Trumbull, Connecticut, and her husband, Samuel; Susan King, of Locust Valley, New York; Lorraine Todisco, of Glen Cove, New York, and her partner, Nicholas Smerina; Diane Fahey, of Glen Cove, New York; and Lisa Cardaci, of Glen Head, New York, and her husband, Vincent Cardaci. He is also survived by his loving granddaughters, Ariel Braunstein, of Arlington, Virginia, and her fiancé, Jeremy Hesketh; Taylor King, of Locust Valley, New York; Kayleigh King, of Locust Valley, New York; Megan Fahey, of Glen Cove, New York; and Caroline Fahey, of Glen Cove, New York.
Our family would like to thank Dr. Farzin Rahmanou, Chief, Critical Care Unit at Glen Cove Hospital, for the care he provided to Lorenzo, and for his compassion to our family during this difficult time.
Family and friends may pay their respects on Friday, June 3, 2022, at Dodge-Thomas Funeral Home, 26 Franklin Ave., Glen Cove, New York, from 4:00 to 8:00 p.m. A funeral Mass of Christian Burial will be held on Saturday, June 4, 2022 at 9:45 a.m. at St. Rocco's Roman Catholic Church, 18 Third St., Glen Cove, New York, immediately followed by interment at Holy Rood Cemetery, 111 Old Country Road, Westbury, New York.