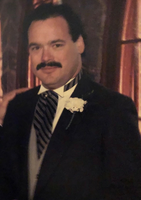 Eugene Patrick Lawless
Eugene Patrick Lawless, 68 of Monrovia California died on May 22, 2020, after a year-long illness. Gene was born in Jamaica, New York, to Eugene and Elaine (McManus) Lawless. He was raised in Glen Cove, New York and attended St. Patrick Elementary School and was an altar server at St Patrick Church. Gene was a graduate of Glen Cove High School, SUNY Cobleskill, and Rochester Institute of Technology.
Starting in high school Gene immersed himself in the hospitality industry and during and after college he worked in food service management at Rochester Institute of Technology, Cornell University Department of Dining Services, and as Associate Vice President for Auxiliary Services at the University of Southern California. He worked in master planning for food services for the 1984 Olympics in Los Angeles and the 1988 Winter Games in Calgary. Prior to his retirement he consulted in strategic planning for the hospitality industry as Vice President and Senior Consultant for Fessel International.
Gene was a loving and charismatic parent, grandparent, partner, son, grandson, brother and friend. He is survived by his loving wife Edie Ramirez of Monrovia, daughters Erin Lawless (spouse Darryl Wagner) and Sarah Lawless (spouse Frank Fielder) of Denver, Colorado, sons Eoghan Lawless of San Diego, California and Conor Lawless of Chicago, Illinois, and grandson August Wagner of Denver. He is also survived by his sisters and brothers and their spouses, Elaine and Anthony McCann, Patricia and James Downey, James and Mary Lawless, Robert McManus, David and Lisa Lawless and many nieces and nephews. Gene was predeceased by his parents Eugene and Elaine Lawless, his brother Thomas and sisters Cathleen and Mary Lawless.
A Mass of Christian Burial will be held at 11 AM on Saturday, September 18th at St Patrick Church, Glen Cove, to be followed by a Committal Service at Holy Rood Cemetery. The family requests that those in attendance wear face masks. Donations in Gene's memory may be made to the Mary Lawless Employee Scholarship Fund attn. Saratoga Bridges, (Chapter of the NYSARC), 16 Saratoga Bridges Boulevard, Ballston Spa, NY 12020.