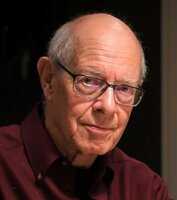 John W. Beckhard
John W. Beckhard, 88, of Locust Valley, NY, died on August 31, 2021, after a brave and graceful eight-month battle with esophageal cancer. Dori, his cherished wife of 66 years, was at his side to the very end.
Born in Germany on March 16, 1933, John and his parents fled to France before arriving in Norfolk, Virginia in 1942 on the last passenger ship from Casablanca. His early entrepreneurial spirit was in evidence when, on the train from Norfolk to New York at age nine, he sold water in paper cones to his fellow passengers.
John grew up in New York and, while attending Queens College, met Dori, the love of his life, and earned a B.A. in French. Already demonstrating a wide range of interests, he wrote obituaries for Facts on File and was a supernumerary with the Metropolitan Opera.
During his service in the U.S. Army in Fontainebleau, France, he briefly went AWOL to return to the U.S. to marry Dori and bring her back with him to France. Upon receiving an Honorable Discharge, he worked at Olivetti selling their office machines and, with Dori, created the original Olivetti English language manual for the first double-computation-capable calculator.
In 1960 John joined his father-in-law, Rudi Bach, in business, and successfully ran Bach & Company (later Bach Knives), an international supplier of precision industrial cutting tools, for 55 years. Although not formally trained as an engineer, John was widely recognized in his field for his ability to creatively resolve complex design challenges through the application of his extensive technical and metallurgic knowledge.
John was a skilled photographer and an avid world traveler, loved well-engineered cars, and appreciated fine wine and food (especially Dori's). His impish grin was contagious. He will be remembered by everyone who had the pleasure of knowing him as a man of quiet integrity, warmth, humor, and charm.
In addition to Dori, John is survived by his three daughters Robin Beckhard (Bryan Shelby), Sharon Beckhard, and Marina Lyn Beckhard (Alan Luberda); his six grandchildren Claire James (Ethan Ravetch), Alex James (Alex Peyser), Sarah Gzesh, Benjamin Luberda (Lauren), Joshua Luberda, and Daniel Luberda; and his three great-grandchildren Kermit, Theodore, and Clementine Ravetch.
The family will receive friends (vaccinated and masked, please) on Friday, September 10 (7 - 9pm) and Sunday, September 12 (2 - 5pm) at home in Locust Valley. A Celebration of Life will be held at a later date. In lieu of flowers, contributions in John's memory may be made to the ACLU or Doctors Without Borders.