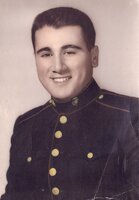 Salvatore G. Paolillo
Salvatore Gerard Paolillo husband, father, grandfather, and great grandfather passed away Saturday, September 4th, 2021 at the age of 91. Husband of the late Marilyn Paolillo, father of Joe, Sal Jr. Mike, Gina, Tommy, Brian, Chris, Mary, Billy, Lisa and the late Claire, father-in-law to Cyndee, Cathy, Lynn, Tim, Carol and Mark, the loving grandfather of sixteen grandchildren and great grandfather of seven great grandchildren. He grew up in Brooklyn, New York with his brother Louis. Sal raised his family in North Merrick and Glen Cove, New York. While living in North Merrick, he was a member and active volunteer at Sacred Heart Church and the Rotary Club. He proudly served in the United States Marine Corps during the Korean War. From meager beginnings, he devoted his career to dynamically building the family construction business S. Paolillo & Sons. As a man of action his life was defined by curiosity, courage, and stamina. He gave life to a beautiful family that continues to grow and grow. He leaves behind a rich legacy of family, friends and country and will be remembered as a devoted husband, committed dad and granddad and loyal friend. Donations may be made to the Wounded Warriors Project https://support.woundedwarriorproject.org.
The family will receive friends Tuesday September 7, 2021 from 4:00 p.m. to 8:00 p.m. at Dodge-Thomas Funeral Home, 26 Franklin Avenue, Glen Cove, NY. Funeral Mass will be held St. Patrick's Church at 9:00 am September 8, 2021 at St. Patrick's Church, 235 Glen St., Glen Cove, NY. Internment at Holy Rood Cemetery.