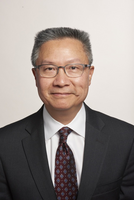 Sunny P. Chiu
CHIU, Sunny P. of Locust Valley, NY on August 19, 2021 age 62. Beloved husband of Carolyn. Loving father of Hannah, Nicholas, Timothy and Christopher. Dear brother of Angel (Rick), Grace (Gary) and Annie (Robert). Also survived by loving nieces and nephews and his faithful canine friends Lily and Percy.
Visiting at Dodge-Thomas Funeral Home of Glen Cove on Thursday from 4-8pm (Masks are optional). Funeral service at Christ Church of Oyster Bay on Friday at 11am (Masks are required). Interment private. Gathering after the service at 27 Coot Road, Locust Valley.
Sunny Chiu was born in Hong Kong on December 10, 1958. He immigrated to the United States with his three younger sisters, parents, and aunts and uncles, on July 17, 1971.
Sunny waited 12 years to become a legal immigrant so that he could start a new and prosperous life in the U.S. He embraced all the freedoms and opportunities of the American Dream. He graduated from University of California Irvine with a BS in Biology and Economics as well as an MBA.
Sunny was a lovely person, cherished by anybody he met and touched the lives of many. His talents for being a skilled manager started at Hoag Hospital in Newport Beach, California, where he worked until 1992. He enjoyed the California lifestyle of sun and sand and even learned how to surf!
Sunny loved sports and was an athlete throughout his junior high and Alhambra High School years. He played soccer, baseball, ran field and track, and loved skiing and hockey. His passions were camping, hiking and being with his family. He was so proud when he climbed Half Dome at Yosemite, one of his favorite National Parks, with his family and always enjoyed the beauty of the outdoors despite mosquitos' love for him. Sunny loved music and he also loved to cook. He enjoyed Pacifico beer and great food in general. He always took it to the limit, just like his favorite Eagles song.
Sunny took on another challenge when he attended Harvard University of Public Health, earning an MPH and meeting his love, Carolyn. They were married on July 16, 1994. New management positions took the couple to many places as Sunny worked at Northwestern University in Chicago, IL, HIP and Mount Sinai in Manhattan, NY and Northwell Health System on Long Island where he improved every organization he worked for. Recently, Sunny became Chief Administrative Officer for Catholic Health, in New York.
Sunny had a gift of being incredibly focused and talented, yet loving and beautiful in every way. He was an amazing husband and father and everyone who meant him was charmed by his loving, kind nature. Sunny was a proud member of Sigma Chi, many professional organizations, and actively involved in Troop 176 of the Boy Scouts of America. He shepherded his three sons as they achieved Eagle Rank. He was an amazing father and husband who did everything to make his family safe and secure. Sunny will be sorely missed by his friends and family. Donations can be sent to Bailey's Arboretum or the Yosemite Conservancy.
To live stream the service, click here Funeral Service Livestream
Donation Information:
Bailey's Arboretum:
- This park is around the corner from our home and we would always walk with him here. We hope to have a park bench placed in the park with the donations so we can have a place to visit.
On that page, they may choose their donation amount. Make sure to click the box "Dedicate This Gift." This will take people to a second page where they can specifically dedicate their donation to Sunny Chiu.
- If anyone is uncomfortable with donating online, they may send a check to Friends of Bailey Arboretum, noting the donation is being made in memory of Sunny Chiu. It should be sent to Bailey Arboretum, 194 Bayville Road, Locust Valley, NY 11560.
Yosemite Conservancy:
- This was a place that my father really loved dearly.
On that page, they may choose their donation amount then provide an email and address for the person to notify for the gift. Please use
hannahgchiu@gmail.com
and address 27 Coot Road, Locust Valley, NY 11560.