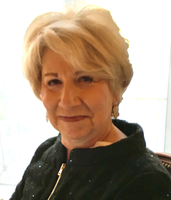 Judith B. Budner
BUDNER, Judith B. of Lattingtown and Glen Cove on March 29, 2021. Affectionaley known as "Judi", she lost her second battle with cancer after a courageous struggle. She is survived by her husband David of 54 years, daughters Caroline of New York City, Lindsay of Dunsmuir, California, and brother Barry of New York City.
Judi was the owner of Images & Details in Locust Valley which she established 30 years ago this May. Her shop on Forest Avenue was widely recognized as the "go-to" place for custom framing and prints, and over the years, she expanded into home decor & gifts. She took great pride in the work she did for her customers near and far, and was credited with having just the right "eye" for custom framing. As a result, Judi developed a loyal following--but what gave her the most joy were the friendships she developed with many of her customers who would often stop by just to talk. Customer service was also a hallmark of her business, and became a significant contributor to the shop's popularity.
Everyone loved Judi, who was perhaps best known for her unique and infectious laugh. She laughed often.
Judi also felt an obligation to the community, and was an on-going contributor to community events, the Boys and Girls Club, and town beautification. As Judi had wished, her husband and staff will carry on at Images & Details with the same dedication and spirit that defined her business.
Those wishing to make a donation in Judi's name can do so at the Cholangiocarcinoma Foundation. Here is the link- Cholangiocarcinoma Foundation
www.dogethomas.com