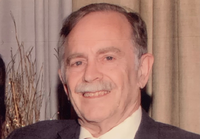 Glenn W. Howard Jr.
HOWARD, Glenn W. Jr. of Glen Cove, NY on January 8th, 2021 age 81. Husband of Angela. Father of Emily & Philip. Brother of Gordon E. & Katherine E. Grandfather of Thomas. Retired principal scientist of Pall Corp., past President of Glen Cove Rotary & former member of Glen Cove Chamber of Commerce Board. Service held at Dodge-Thomas Funeral Home. Interment Locust Valley Cemetery. Donations may be made to Rotary Dress A Child, Audubon Society of America & Chiefs Memorial Fund for North Country Camp Foundation. Dodgethomas.com
To donate to Rotary Dress A Child:
Donations may be made to:
Rotary Club of Glen Cove
P.O. Box 469
Glen Cove, NY 11542
Memo: In memory of Glenn Howard Jr.